Ferguson was founded in 1953 and opened two locations with the intent to service smaller plumbing contractors. Fast forward to today, and the company now has over 1,700 locations across North America, managing over 37,000 suppliers that are manufacturing products.
Ferguson is dedicated to building more than just homes and offices – it helps build relationships, trust, confidence and community. Ferguson is a leading distributor that provides expertise, solutions and products for lighting. Now, CBUSA members have the opportunity to work with Ferguson as one of their new exclusive brand partners. Ferguson offers a range of unique lighting styles fit for every room. These styles include sconces, chandeliers, ceiling fans, pendants, lamps and more.
There are several branded lighting manufacturers that fall under the Ferguson umbrella, including: RP Lighting, Millennium Lighting, Minka (Minka Lavery, MinkaAire, George Kovacs, Metropolitan) and Signature Hardware.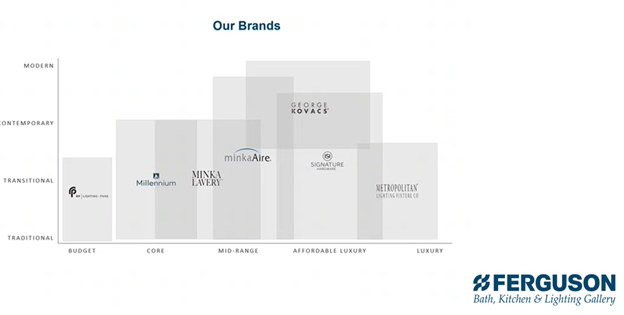 As experts in lighting, Ferguson has all the inspiration you need when designing homes for your clients. Finding the right lighting, whether it's to set a certain mood or brighten up a space, is the key to perfecting the look of every room. Here are some solutions you should consider when planning out interior lighting for your next project.
Kitchen lighting ideas
The kitchen is the heart of the home, where everyone gathers to share food and make memories. However, it can often be a challenge to efficiently light the space. Proper lighting is essential for tasks like chopping, stirring and plating. When seeking inspiration for kitchen lighting, the key is to focus on directing bright light downward. This can be achieved by strategically placing recessed lights on the ceiling to illuminate all surfaces in the kitchen.
One way to do this without compromising style is to arrange a large light fixture or several pendants directly above a kitchen island. In fact, incorporating fixtures specifically designed for an island is a great way to add a touch of color or unique accent to the space. Another option to keep in mind is under-cabinet lighting. This creates a nice glow at night and brightens up an area that's typically dark.
Living room lighting ideas
Compared to other areas of a home, the living room is a space that takes on numerous roles. It not only serves as a cozy spot for movie nights, but it's also a gathering place for conversations with family and friends. It's also often the space people see the moment they walk in the front door. When it comes to lighting, the living room should be inviting and convenient to meet the needs of the room's different functions.
To create the best living room atmosphere, consider lighting fixtures like recessed lights, table and floor lamps, pendants, ceiling fans and track lighting.
Bathroom lighting ideas
The bathroom is the starting point and ending point. It's where people get ready for the day ahead and wind down before going to sleep. There are a few facets to consider when choosing the best lighting for a bathroom – function, fashion and safety. Each aspect of the bathroom calls for distinct lighting requirements, and it's important to ensure they're all specifically approved for use in damp environments.
Lighting is crucial for a bathroom, especially if there are few or no windows. When it comes to the shower or bathtub area, adequate illumination is typically achieved through overhead lighting. The vanity area, on the other hand, offers the opportunity to add stylish flare. That being said, it should also provide a sufficient amount of brightness for morning and night routines. There are many options to consider when choosing lights for a bathroom vanity. Hollywood lights, traditional vanity lights or mirrors with integrated lighting are all popular ways to add style and function to the space.
Ready to start using Ferguson in your home projects?
Log in to the CBUSA Member Portal and go to Contracts Central. From there you can complete your Ferguson enrollment survey. Start saving today on all your lighting needs and give your clients the variety they want.